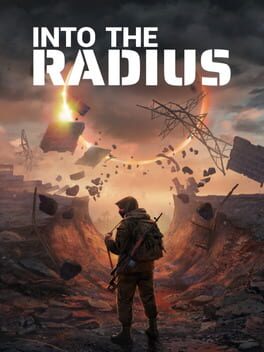 Into the Radius is a single-player survival shooter developed exclusively for premium Virtual Reality headsets. The game is a dark mix of eldritch horror, open-world exploration, realistic weapon handling and intriguing storyline that will make you feel like you're in the middle of the post-apocalyptic Pechorsk Radius zone.
Life and death intertwine inside the Radius, lurking somewhere in the middle of everything is the answer to a question you can't quite remember. Through the flickering memories of your tarnished life as a former resident of Pechorsk and now UNSPC specialist, your only means of survival is to stalk the strange and threatening zone and complete the missions assigned to you.
Shoot Fast and Take Cover Take cover and beware of the threats around you. Gunplay and real bullet physics will keep you on your toes. Featuring classics like the Pistolet Makarova, Double Barrel Shotgun and the AKM Kalashnikov. Weapon interactions are based on their real-life counterparts. Handling, aiming and reloading uses similar movements to their real-world versions.
Weapons have unique ammo and suitable attachments, but must be taken care of or else they will begin to jam!
Interesting Story Ever since the mysterious and deadly Pechorsk Radius appeared, it had been the single most discussed topic in the media, scientific communities, and political establishments.
Rumors, conspiracies, and legends slowly began to emerge; speaking of wondrous artifacts, deadly anomalies and bizarre entities that inhabit the once quiet mining town.
Today interest has faded, the exclusion zone around the Pechorsk Radius remains completely restricted to the public. Only authorized personnel from the UN Pechorsk Special Committee have any real knowledge of what the Radius truly is.
Hardcore Gameplay We placed player skill as one of the important focuses of the game. In order to survive inside the Radius you'll need to pick the right gear for your journey, understand how to navigate the dangerous terrain and discover what kind of anomalies exist, in order to complete your objectives.
Explore Extraordinary Landscapes Fifteen years after the Pechorsk Event, the Radius has been almost completely abandoned and stands as an isolated and blighted territory. There are miles and miles of forests and crumbling industrial ruins to explore however you want. Be warned, the Radius is filled with lethal anomalies and rumored to contain hostile forces that threaten anyone foolish or daring enough to risk their lives exploring it.